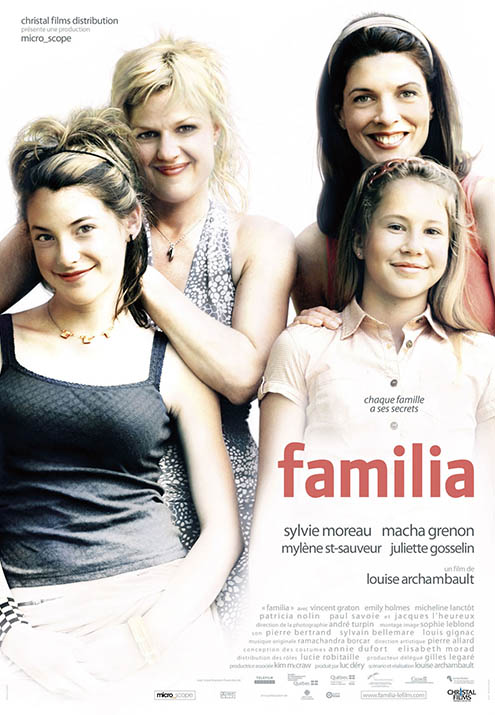 FAMILIA
A film by
Louise Archambault
Cast
Sylvie Moreau, Macha Grenon, Juliette Gosselin, Mylène St-Sauveur, Vincent Graton, Micheline Lanctôt, Patricia Nolin, Paul Savoie, Jacques L'Heureux
Details
2005 – Canada – French – 102 minutes – 35mm – Color
Awards & Festivals 
– Locarno Film Festival – Official Competition
– Toronto Int. Film Festival – Opening Film "Canada First"
– Citytv Award for Best Canadian First Feature
– Göteborg Film Festival
Distribution
Canada
Les Films Séville
World
Séville International
Trailer
Photos
SYNOPSIS
Michele is a thirty-something aerobics instructor who spends more time at the casino than at the gym. Her life is turned upside down when her boss and fiancé Scott, unwilling to cover her gambling debts any longer, decides to hold back her paychecks. Michele decides to leave Scott and join her sister in California, but she doesn't have one red cent for the trip.
With her 14-year-old daughter, Marguerite, Michele turns to her childhood friend, Janine, who has a teenage daughter of her own, Gabrielle. Janine agrees to take in Michele and Marguerite in her comfortable suburban home, although she is secretly concerned about Marguerite's bad influence on her shy and reserved daughter.
As the two young girls become friends, their mothers rekindle their long lost friendship. But the leafy and reassuring hills of Saint-Hilaire soon become the backdrop for unforeseen drama when mothers and daughters are forced to reassess their values. While the inhibited Gabrielle gains in confidence and starts seeing her seemingly perfect mother in a new light, Michele slowly discovers the true nature of her own daughter and her desire for stability.
Is behaviour innate or learned; and as parents is it ever possible to not repeat our own parents' mistakes with our children? When online sex, double lives, unexplained pregnancies and lies are thrown into the mix, both families are faced with life-changing choices.
Crew
Writer and director: Louise Archambault
Producers: Luc Déry, Kim McCraw
Line producer: Gilles Légaré
Director of photography: André Turpin
Production designer: Pierre Allard
Costume designer : Annie Dufort et Élizabeth Morad
Editor: Sophie Leblond
Music: Ramachandra Borcar
Sound: Pierre Bertrand, Sylvain Bellemare, Louis Gignac