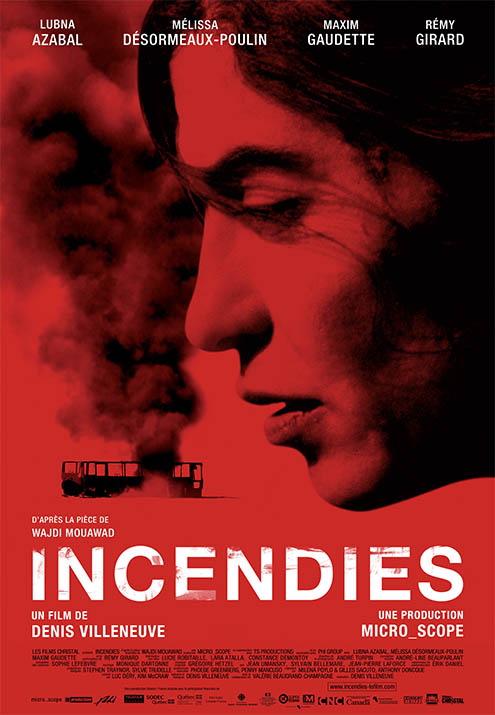 INCENDIES
A film by
Denis Villeneuve
Cast
Lubna Azabal, Mélissa Désormeaux-Poulin, Maxim Gaudette, Rémy Girard
Details
2010 – Canada – French – 130 minutes – 35mm – Color
Awards & Festivals 
– Nominated at 83rd Academy Awards – Best Foreign Language Film
– Mostra de Venise, Venice Days – Best Film
– Sundance Film Festival – Section Spotlight
– Best Canadian Film – Toronto Int. Film Festival, Vancouver, Halifax and Calgary
– Winner of 9 Jutra and 8 Canadian Screen Awards
Distribution
Canada
Les Films Christal
World 
Séville International
Trailer
Photos
SYNOPSIS
Twins Jeanne and Simon Marwan weren't expecting much from their mother Nawal's will. They are understandably stunned when Jean Lebel, notary and long-time friend of Nawal's, reads her last wishes: for the twins to hand-deliver two letters, one to a father they thought dead, the other to a brother they never knew existed.
Helped by Jean Lebel, the twins slowly piece together Nawal's heartbreaking story: that of a life mortgaged by the self-fuelling cycle of war and hate… and finally discovering their mother's exceptional courage and resolve.
Adapted from Wajdi Mouawad's acclaimed stage play, Incendies takes an unbiased and painfully poetic look at the roots of all wars through two young adults' personal voyage to the core of hatred and enduring love.
Crew
Writer and director: Denis Villeneuve
Based on the stage play of: Wadji Mouawad
Producers: Luc Déry, Kim McCraw (micro_scope)
Co-producers: Miléna Pylo & Gilles Sacuto, Anthony Doncque (TS Productions)
Associate producers: Phoebe Greenberg, Penny Mancuso (Phi Group Québec)
Line producer: Stephen Traynor, Sylvie Trudelle
Director of photography: André Turpin
Production designer: André-Line Beaupalant
Costume designer: Sophie Lefebvre
Editor: Monique Dartonne
Music: Grégoire Hetzel
Sound: Jean Umansky, Sylvain Bellemare, Jean-Pierre Laforce
REMEMBERING THE ASHES
In Jordan, in the heart of the Middle East, Iraqi, Palestinian and Lebanese refugees are working on the filming of Incendies, an adaptation of Wajdi Mouawad's play. Whether extras or onlookers, these exiles once experienced scenes very similar to the ones depicted in Denis Villeneuve's movie. Remembering the Ashes explores their views on the vicious war and cycle of violence being recreated before their eyes, and by their own efforts.
Crew
Writer, director, camera and sound: Anaïs Barbeau-Lavalette
Producer: Élaine Hébert
Executive producers: Luc Déry, Kim McCraw
Assistant-Director and Interpreter: Alia Hatough
Editor: Elric Robichon
Original music: Thomas Carbou
Sound Editor: Guy Pelletier
Mix:  Stéphane Bergeron
Postproduction Supervisor: Érik Daniel