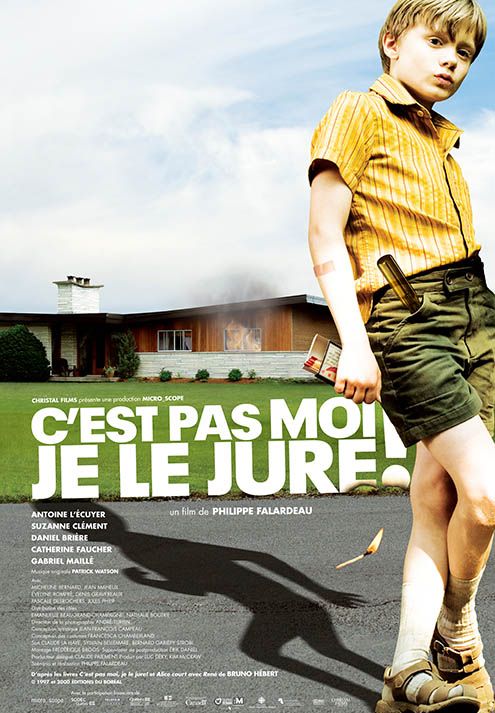 IT'S NOT ME, I SWEAR!
A film by
Philippe Falardeau
Cast 
Antoine L'Écuyer, Suzanne Clément, Daniel Brière, Catherine Faucher, Gabriel Maillé
Details 
2008 – Canada – French – 110 minutes – 35mm – Color
Award & Festivals
– Berlin Int. Film Festival – Crystal Bear for Best Film and Deutsch Kinderhilfswerk  Grand Prize
– Toronto Int. Film Festival
– Vancouver Film Critics Awards – Best Film, Best Directing
– Göteborg Int. Film Festival
Distribution
Canada
Les Films Christal
World 
Séville International
Trailer
Photos
SYNOPSIS
Leon is ten years old, has lots of problems and an overly fertile imagination. Of course, there is Mom and Dad who are always fighting, and those annoying neighbors who get to spend the summer at the beach. And then, there's Lea, the exasperating girl who's always right about everything.
In the summer of '68, when Mom decides to leave everything behind to start a new life in Greece, Leon is prepared to do anything to kill the pain. Destroy the neighbors' house, become a professional liar and even, why not, fall in love with Lea. Together, they will overcome the pain of growing up when you feel abandoned.
Crew
Writer and director: Philippe Falardeau
Based on a book by : Bruno Hébert
Producers: Luc Déry, Kim McCraw
Line producer: Claude Paiement
Cinematography: André Turpin
Production designer: Jean-François Campeau
Costume designer: Francesca Chamberland
Editor: Frédérique Broos
Music: Patrick Watson
Sound: Claude La Haye, Sylvain Bellemare, Bernard Gariépy Strobl