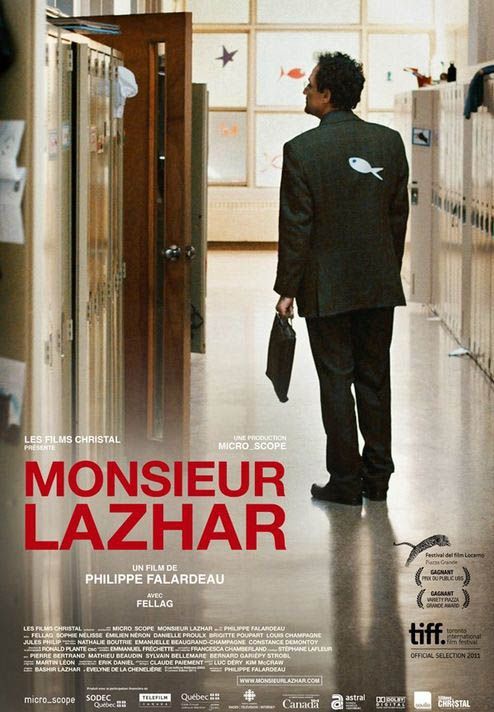 MONSIEUR LAZHAR
A film by
Philippe Falardeau
Cast 
Fellag, Sophie Nélisse, Émilien Néron, Danielle Proulx, Brigitte Poupart
Details 
2011 – Canada – French – 94 minutes – Color
Awards & Festivals
– Nominated at the 84th Academy Awards – Best Foreign Language Film
– Locarno Film Festival – Audience Award and Variety Piazza Grande Award
– Namur Int. Film Festival – Jury's Special Award, Audience Award
– Valladolid Int. Film Festival – Best Screenplay, FIPRESCI Critics Award
– Festival du nouveau cinéma – Closing Night Film
Distribution
Canada
Les Films Christal
World 
Playtime
Trailer
Photos
SYNOPSIS
In Montreal, an elementary school teacher dies abruptly. Having learned of the incident in the newspaper, Bachir Lazhar, a 55-year-old Algerian immigrant, goes to the school to offer his services as a substitute teacher. Quickly hired to replace the deceased, he finds himself in an establishment in crisis, while going through his own personal tragedy.
The cultural gap between Bachir and his class is made immediately apparent when he gives them a dictation exercise that is beyond their reach. Little by little, Bachir learns to better know this group of shaken but endearing kids, among whom are Alice and Simon, two charismatic pupils particularly affected by their teacher's death. While the class goes through the healing process, nobody in the school is aware of Bachir's painful past; nor do they suspect that he is at risk of being deported at any moment.
Adapted from a play by Evelyne de la Chenelière, Monsieur Lazhar depicts the encounter between two distant worlds and the power of self-expression. AfterCongorama and It's Not Me, I Swear!, Philippe Falardeau returns to the socially engaged filmmaking that marked his beginnings with The Left-Hand Side of the Fridge. Using great sensitivity and humor, the filmmaker follows a humble man who is ready to transcend his own loss in order to accompany children beyond the silence and taboo of death.
Crew
Writer and director: Philippe Falardeau
Based on the stage play of: Evelyne de la Chenelière
Producers: Luc Déry, Kim McCraw
Line producer: Claude Paiement
Director of photography: Ronald Plante
Production designer: Emmanuel Fréchette
Costume designer: Francesca Chamberland
Editor: Stéphane Lafleur
Music: Martin Léon
Sound: Pierre Bertrand, Mathieu Beaudin, Sylvain Bellemare, Bernard Gariépy Strobl